Penis Clamping – How does it work?

Clamping is an advanced penis enlargement method in which a clamping device is used to obtain girth. Before you start clamping, keep in mind it contains a significant risk and more so than any other type of penile exercise. Clamping is generally safe when caution, awareness, and good judgment are used. You should not try clamping until you have been exercising your penis for at least 6 months. With that said, the beauty of clamping is you can do it anywhere an erection is possible. If you are at the computer and have some privacy, you can stimulate yourself to an erection, throw on a clamp and use the computer to keep yourself erect.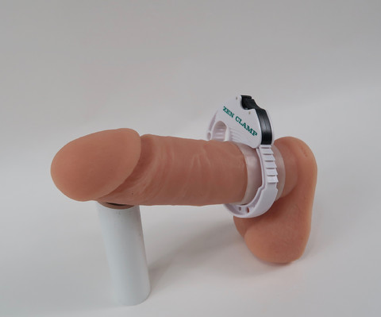 Clamping restricts blood from flowing out of the penis while still allowing limited inflow. Because blood is still flowing into the penis, and none is leaving, there is an extraordinary amount of pressure built up. The pressure built up while clamping expands penis tissues beyond its normal erection state. By expanding the penis tissues multiple times, the expansion eventually becomes permanent.
The steps:
Stimulate your penis to erection. If you prefer, you can put the clamp on at a lower erection and then build an erection once the clamp is in place.
Wrap the base of your penis. The best wraps are soft and help protect your penis from the hard clamp.
Place clamp over wrap and tighten. The clamp should be as close to the pubic bone as possible. Stimulate the penis to the highest erection possible. Without causing any pain or discomfort, tighten the clamp as tight as possible. Once it's tightened, you can increase the intensity by doing kegels to pump blood into your penis.
Leave clamped for desired amount of time. If you are new to clamping, leave your penis clamped for no more than five minutes.
Important tips:
When you first start clamping, do 1 day on and 2 days off. Over time, move up in the number of days on, if needed.
Kegel throughout the whole clamping session. This continually pushes more blood into the penis, creating greater expansion.
Wait five to ten minutes between clamping sets. This will minimize the chance of an injury occurring, and maximize gains.
While clamped, get up and move around if possible. This causes more blood to flow to the penis, creating more of an engorgement.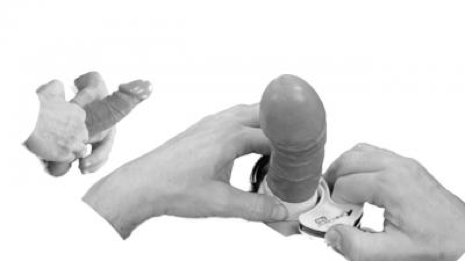 Clamping builds up an unusual amount of pressure in the penis. Accordingly, if your penis is not conditioned for clamping, or you do not pay attention to your penis while clamping, you can easily cause an injury. The two most common injuries from clamping include overtraining and penile Mondor's disease (penis thrombosis, which is benign, but still takes an average of four weeks to heal). It shouldn't need to be stated again just how dangerous this exercise can be, but if you do it properly, you're sure to see results!